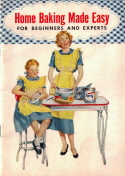 Here is page 9 of the vintage cookbook: Home Baking Made Easy that was published in 1953 by Lever Brothers Company.
To review all pages in this booklet, simply visit the Home Baking Made Easy: Spry Category and click on a page title to review that section.
There are scans of each of the pages, you can click the full-page pictures to view a larger size.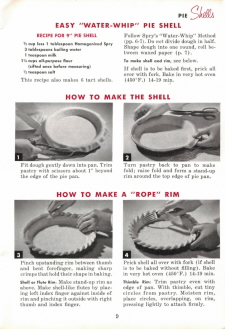 EASY "WATER-WHIP" PIE SHELL
RECIPE FOR 9″ PIE SHELL
1/2 cup less 1 tablespoon Homogenized Spry
3 tablespoons boiling water
1 teaspoon milk
1 1/4 cups all-purpose flour (sifted once before measuring)
1/2 teaspoon salt
This recipe also makes 6 tart shells.
Follow Spry's "Water-Whip" Method (pp. 6-7). Do not divide dough in half. Shape dough into one round, roll between waxed paper (p. 7).
To make shell and rim, see below.
If shell is to be baked fist, prick all over with fork. Bake in very hot oven (450° F.) 14-19 min.
HOW TO MAKE THE SHELL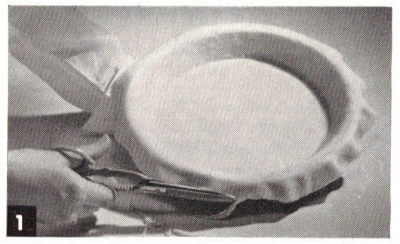 Fit dough gently down into pan. Trim pastry with scissors about 1″ beyond the edge of the pie pan.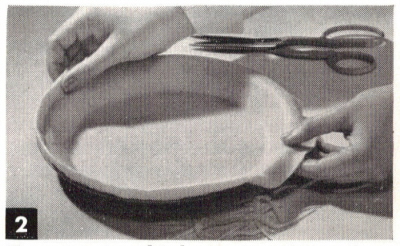 Turn pastry back to pan to make fold; raise fold and form a stand-up rim around the top edge of pie pan.
HOW TO MAKE A "ROPE" RIM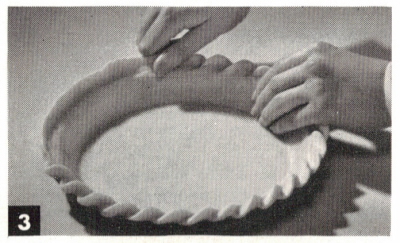 Pinch upstanding rim between thumb and bent forefinger, making sharp crimps that hold their shape in baking.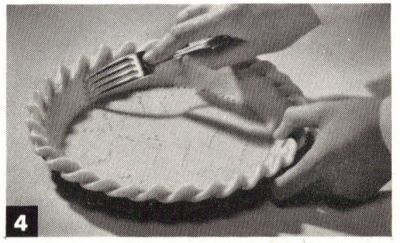 Prick shell all over with fork (if shell is to be baked without filling). Bake in very hot oven (450° F.) 14-19 min.
Shell or Flute Rim: Make stand-up rim as above. Make shell-like flutes by placing left index finger against inside of rim and pinching it outside with right thumb and index finger.
Thimble Rim: Trim pastry even with edge of pan. With thimble, cut tiny circles from pastry. Moisten rim, place circles, overlapping, on rim, pressing lightly to attach firmly.
More Recipes For You To Enjoy: