This promo recipe from Carnation, Gold Medal and Foley was clipped from a magazine and found in a large collection, date unknown. I've typed the recipe below along with a scanned copy.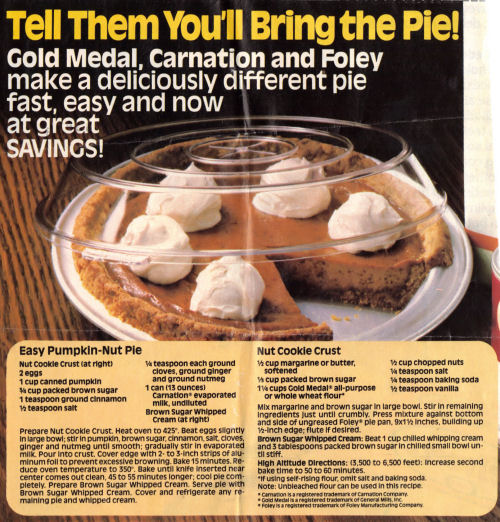 Easy Pumpkin-Nut Pie
Nut Cookie Crust (see below)
2 eggs
1 cup canned pumpkin
3/4 cup packed brown sugar
1 teaspoon ground cinnamon
1/2 teaspoon salt
1/4 teaspoon each ground cloves, ground ginger and ground nutmeg
1 can (13 ounces) Carnation evaporated milk, undiluted
Brown Sugar Whipped Cream (see below)
Prepare Nut Cookie Crust. Heat oven to 425°. Beat eggs slightly in large bowl; stir in pumpkin, brown sugar, cinnamon, salt, cloves, ginger and nutmeg until smooth; gradually stir in evaporated milk. Pour into crust. Cover edge with 2- to 3-inch strips of aluminum foil to prevent excessive browning. Bake 15 minutes. Reduce oven temperature to 350°. Bake until knife inserted near center comes out clean, 45 to 55 minutes longer; cool pie completely. Prepare Brown Sugar Whipped Cream. Serve pie with Brown Sugar Whipped Cream. Cover and refrigerate any remaining pie and whipped cream.
Nut Cookie Crust
1/2 cup margarine or butter, softened
1/3 cup packed brown sugar
1 1/4 cups Gold Medal all-purpose or whole wheat flour*
1/2 cup chopped nuts
1/4 teaspoon salt
1/4 teaspoon baking soda
1/2 teaspoon vanilla
Mix margarine and brown sugar in large bowl. Stir in remaining ingredients just until crumbly. Press mixture against bottom and side of ungreased Foley pie pan, 9 x 1 1/2 inches, building up 1/2-inch edge; flute if desired.
Brown Sugar Whipped Cream: Beat 1 cup chilled whipping cream and 3 tablespoons packed brown sugar in chilled small bowl until stiff.
High Altitude Directions: (3,500 to 6,500 feet): Increase second bake time to 50 to 60 minutes.
*If using self-rising flour, omit salt and baking soda.
Note: Unbleached flour can be used in this recipe.
More Recipes For You To Enjoy: