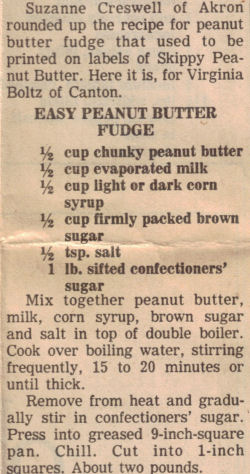 This recipe was clipped from the Beacon Journal newspaper, date unknown. The introduction mentions that this recipe used to be printed on the labels of Skippy Peanut Butter. Recipe is typed below along with a scanned copy.
EASY PEANUT BUTTER FUDGE
1/2 cup chunky peanut butter
1/2 cup evaporated milk
1/2 cup light or dark corn syrup
1/2 cup firmly packed brown sugar
1/2 tsp. salt
1 lb. sifted confectioners' sugar
Mix together peanut butter, milk, corn syrup, brown sugar and salt in top of double boiler. Cook over boiling water, stirring frequently, 15 to 20 minutes or until thick.
Remove from heat and gradually stir in confectioners' sugar. Press into greased 9-inch-square pan. Chill. Cut into 1-inch squares. About two pounds.
More Recipes For You To Enjoy: