This promo recipe from Keebler was clipped from a label and found in a large collection, date unknown. I've typed it below along with a scanned copy.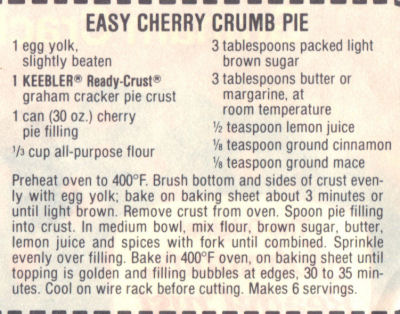 EASY CHERRY CRUMB PIE
1 egg yolk, slightly beaten
1 KEEBLER Ready-Crust graham cracker pie crust
1 can (30 oz.) cherry pie filling
1/3 cup all-purpose flour
3 tablespoons packed light brown sugar
3 tablespoons butter or margarine, at room temperature
1/2 teaspoon lemon juice
1/8 teaspoon ground cinnamon
1/8 teaspoon ground mace
Preheat oven to 400°F. Brush bottom and sides of crust evenly with egg yolk; bake on baking sheet about 3 minutes or until light brown. Remove crust from oven. Spoon pie filling into crust. In medium bowl, mix flour, brown sugar, butter, lemon juice and spices with fork until combined. Sprinkle evenly over filling. Bake in 400°F oven, on baking sheet until topping is golden and filling bubbles at edges, 30 to 35 minutes. Cool on wire rack before cutting. Makes 6 servings.
More Recipes For You To Enjoy: