Full page magazine promo page for Duncan Hines with three different recipes, date on back is 1980. Magazine unknown.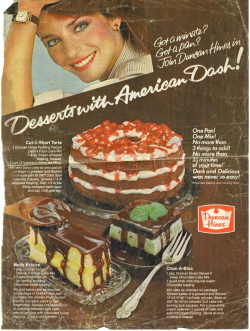 Duncan Hines Recipes
Got a minute?
Got a pan?
Join Duncan Hines in
Desserts with American Dash!
One Pan!
One Mix!
No more than
3 things to add!
No more than 35 minutes
of your time!*
Dark and Delicious was never so easy!
*Excludes baking and cooling time
Cut-It-Short Torte
1 Duncan Hines Pudding Recipe Devil's Food Cake Mix
1-8oz. frozen whipped topping, thawed.
1 can (21 ounces) cherry pie filling
Mix and bake cake as directed on package in greased and floured 10-inch tube pan at 350°. Cool. Split cake into 3 layers. Spread 1/3 of whipped topping, then 1/3 of pie filling between each layer and top. Chill until set.
Mock Eclairs
1 pkg. Duncan Hines Deluxe II Yellow Cake Mix
2 – 5 ounce cans lemon (or vanilla) pudding
Chocolate fudge topping
Mix and bake cake as directed on package in 13x9x2-inch pan. Cut cake into sixteen 4 1/2 X 1 1/2-inch pieces. Cut each piece in half lengthwise. Spread one tablespoon of pudding between split cake pieces and top with chocolate fudge topping. Store in refrigerator.
Choc-A-Bloc
1 pkg. Duncan Hines Deluxe II Deep Chocolate Cake Mix
1 quart brick mint chip ice cream
Chocolate topping
Mix cake as directed on package. Spread batter in a greased and floured 15 1/2 X 10 1/2 X 1-inch jelly roll pan. Bake at 350° for 20-25 minutes. Cut cake into serving size squares. Put a slice of ice cream between 2 pieces of cake and add chocolate topping. Serve at once or store in freezer.
More Recipes For You To Enjoy: