These recipes were printed on an envelope of Dream Whip, date unknown. Recipe is typed below along with a scanned copy.
SMOOTH BUTTER FROSTING
A rich butter frosting! Vanilla, lemon, or orange–make your favorite flavor for cupcakes and cake.
1/3 cup cold milk
1 teaspoon vanilla
1 envelope Dream Whip
1 pound confectioners' sugar
2 tablespoons milk
3 tablespoons butter, softened
Combine 1/3 cup milk, vanilla, and Dream Whip in large bowl. Add half of sugar; blend well. Whip rapidly until thickened–about 2 minutes. At medium speed alternately add remaining sugar and milk; beat after each addition. Add butter, 1 tablespoon at a time, beating well. Makes 2 3/4 cups, enough for 8- or 9-inch layer cake or 24 cupcakes.
LEMON OR ORANGE BUTTER FROSTING
Prepare as above; omit vanilla and substitute 2 tablespoons lemon or orange juice for the 2 tablespoons milk. Add 1 teaspoon grated lemon or orange rind after beating in butter.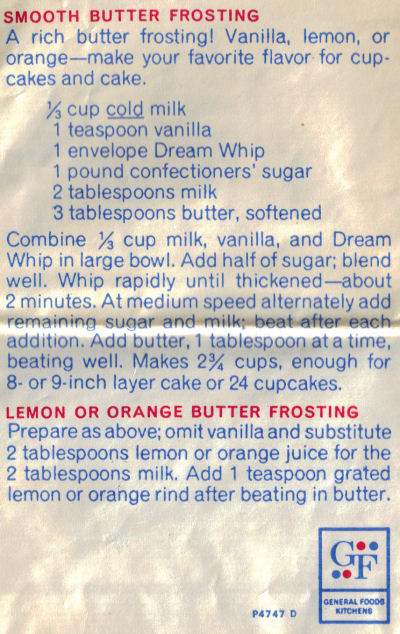 More Recipes For You To Enjoy: