This handwritten recipe was found in a large collection, date unknown. There's a notation of (Mother Earth) on the card, I believe this is the source–it's a magazine. I've typed the recipe below along with a scanned copy (front side).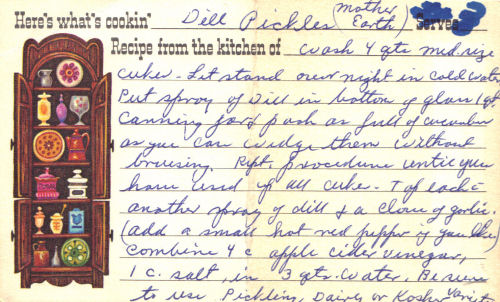 Dill Pickles (Mother Earth)
Wash 4 qts med. size cukes – let stand overnight in cold water.
Put spray of dill in bottom of glass 1 qt. canning jars & pack as full of cucumber as you can, wedge them without bruising.
Rept. procedure until you have used up all cukes.
Top each with another spray of dill & a clove of garlic. (add a small hot red pepper if you like)
Combine 4 c apple cider vinegar, 1 c. salt, in 3 qts. water. Be sure to use pickling, dairy or kosher varieties. Ordinary table salt (with iodine) will discolor your pickles & cloud the brine.
Bring the vinegar-salt-water solution to a brisk rolling boil in a glass, stainless steel or unchipped enamel pan. Fill each jar to overflowing with the brine, seal the container & store in a cool dark place for at least 1 month.
Please read the Safe Canning & Food Preservation section if planning on canning this recipe.
More Recipes For You To Enjoy: