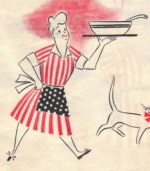 Here are pages 27, 28 and 29 of the WWII ration cookbook titled "Recipes For Today" that was published by General Foods Corporation in 1943. This was during the second world war when the United States was experiencing food rations and shortages (sugar, meat, etc.) and homemakers were looking for creative ways to feed their families.
You can view all the pages in this little book by visiting this category: Recipes For Today (WWII), just click a page title to view that section of the book. You'll find scans of the pages included below (click pictures to view a larger size) as well as a typed version for easy printing.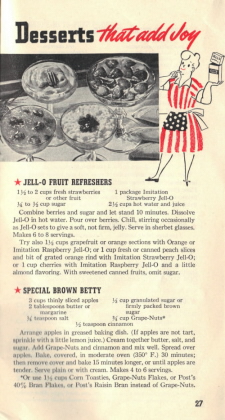 Desserts that add Joy
JELL-O FRUIT REFRESHERS
1 1/2 to 2 cups fresh strawberries or other fruit
1/4 to 1/2 cup sugar
1 package Imitation Strawberry Jell-O
2 1/2 cups hot water and juice
Combine berries and sugar and let stand 10 minutes. Dissolve Jell-O in hot water. Pour over berries. Chill, stirring occasionally as Jell-O sets to give a soft, not firm, jelly. Serve in sherbet glasses. Makes 6 to 8 servings.
Try also 1 1/2 cups grapefruit or orange sections with Orange or Imitation Raspberry Jell-O; or 1 cup fresh or canned peach slices and bit of grated orange rind with Imitation Strawberry Jell-O; or 1 cup cherries with Imitation Raspberry Jell-O and a little almond flavoring. With sweetened canned fruits, omit sugar.
SPECIAL BROWN BETTY
3 cups thinly sliced apples
2 tablespoons butter or margarine
1/4 teaspoon salt
1/3 cup granulated sugar or firmly packed brown sugar
3/4 cup Grape-Nuts*
1/2 teaspoon cinnamon
Arrange apples in greased baking dish. (If apples are not tart, sprinkle with a little lemon juice.) Cream together butter, salt, and sugar. Add Grape-Nuts and cinnamon and mix well. Spread over apples. Bake, covered, in moderate oven (350° F.) 30 minutes; then remove cover and bake 15 minutes longer, or until apples are tender. Serve plain or with cream. Makes 4 to 6 servings.
*Or use 1 1/2 cups Corn Toasties, Grape-Nuts Flakes, or Post's 40% Bran Flakes, or Post's Raisin Bran instead of Grape-Nuts.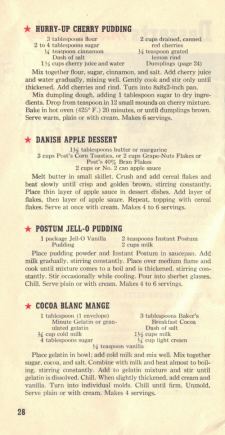 HURRY-UP CHERRY PUDDING
3 tablespoons flour
2 to 4 tablespoons sugar
1/4 teaspoon cinnamon
Dash of salt
1 1/3 cups cherry juice and water
2 cups drained, canned red cherries
1/8 teaspoon grated lemon rind
Dumplings (page 24)
Mix together flour, sugar, cinnamon, and salt. Add cherry juice and water gradually, mixing well. Gently cook and stir only until thickened. Add cherries and rind. Turn into 8x8x2-inch pan.
Mix dumpling dough, adding 1 tablespoon sugar to dry ingredients. Drop from teaspoon in 12 small mounds on cherry mixture. Bake in hot oven (425° F.) 20 minutes, or until dumplings brown. Serve warm, plain or with cream. Makes 6 servings.
DANISH APPLE DESSERT
1 1/2 tablespoons butter or margarine
3 cups Post's Corn Toasties, or 2 cups Grape-Nuts Flakes or Post's 40% Bran Flakes
2 cups or No. 2 can apple sauce
Melt butter in small skillet. Crush and add cereal flakes and heat slowly until crisp and golden brown, stirring constantly. Place thin layer of apple sauce in dessert dishes. Add layer of flakes, then layer of apple sauce. Repeat, topping with cereal flakes. Serve at once with cream. Makes 4 to 6 servings.
POSTUM JELL-O PUDDING
1 package Jell-O Vanilla Pudding
2 teaspoons Instant Postum
2 cups milk
Place pudding powder and Instant Postum in saucepan. Add milk gradually, stirring constantly. Place over medium flame and cook until mixture comes to a boil and is thickened, stirring constantly. Stir occasionally while cooling. Pour into sherbet glasses. Chill. Serve plain or with cream. Makes 4 to 6 servings.
COCOA BLANC MANGE
1 tablespoon (1 envelope) Minute Gelatin or granulated gelatin
1/4 cup cold milk
4 tablespoons sugar
3 tablespoons Baker's Breakfast Cocoa
Dash of salt
1 1/2 cups milk
1/4 cup light cream
1/2 teaspoon vanilla
Place gelatin in bowl; add cold milk and mix well. Mix together sugar, cocoa, and salt. Combine with milk and heat almost to boiling, stirring constantly. Add to gelatin mixture and stir until gelatin is dissolved. Chill. When slightly thickened, add cream and vanilla. Turn into individual molds. Chill until firm. Unmold. Serve plain or with cream. Makes 4 servings.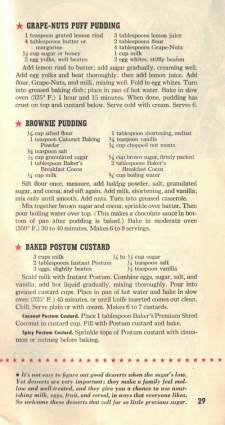 GRAPE-NUTS PUFF PUDDING
1 teaspoon grated lemon rind
4 tablespoons butter or margarine
1/2 cup sugar or honey
2 egg yolks, well beaten
3 tablespoons lemon juice
2 tablespoons flour
4 tablespoons Grape-Nuts
1 cup milk
2 egg whites, stiffly beaten
Add lemon rind to butter; add sugar gradually, creaming well. Add egg yolks and beat thoroughly; then add lemon juice. Add flour, Grape-Nuts, and milk, mixing well. Fold in egg whites. Turn into greased baking dish; place in pan of hot water. Bake in slow oven (325° F.) 1 hour and 15 minutes. When done, pudding has crust on top and custard below. Serve cold with cream. Serves 6.
BROWNIE PUDDING
1/2 cup sifted flour
1 teaspoon Calumet Baking Powder
1/2 teaspoon salt
1/3 cup granulated sugar
1 tablespoon Baker's Breakfast Cocoa
1/4 cup milk
1 tablespoon shortening, melted
1/2 teaspoon vanilla
1/4 cup chopped nut meats
1/2 cup brown sugar, firmly packed
2 tablespoons Baker's Breakfast Cocoa
3/4 cup boiling water
Sift flour once, measure, add baking powder, salt, granulated sugar, and coca, and sift again. Add milk, shortening, and vanilla; mix only until smooth. Add nuts. Turn into greased casserole.
Mix together brown sugar and cocoa; sprinkle over batter. Then pour boiling water over top. (This makes a chocolate sauce in bottom of pan after pudding is baked.) Bake in moderate oven (350° F.) 30 to 40 minutes. Makes 6 to 8 servings.
BAKED POSTUM CUSTARD
3 cups milk
2 tablespoons Instant Postum
3 eggs, slightly beaten
1/4 to 1/3 cup sugar
1/4 teaspoon salt
1/2 teaspoon vanilla
Scald milk with Instant Postum. Combine eggs, sugar, salt, and vanilla; add hot liquid gradually, mixing thoroughly. Pour into greased custard cups. Place in pan of hot water and bake in slow oven (325° F.) 45 minutes, or until knife inserted comes out clean. Chill. Serve plain or with cream. Makes 6 to 7 custards.
Coconut Postum Custard. Place 1 tablespoon Baker's Premium Shred Coconut in custard cup. Fill with Postum custard and bake.
Spicy Postum Custard. Sprinkle tops of Postum custard with cinnamon or nutmeg before baking.
It's not easy to figure out good desserts when the sugar's low. Yet desserts are very important; they make a family feel mellow and well-treated, and they give you a chance to use nourishing milk, eggs, fruit, and cereal, in ways that everyone likes. So welcome these desserts that call for so little precious sugar.
More Recipes For You To Enjoy: