This recipe was written on a lined index card and found in a large collection, date unknown. I've typed it below along with a scanned copy.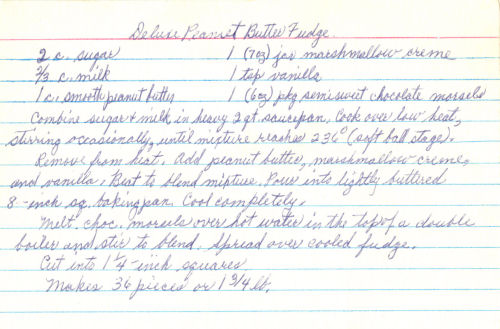 Deluxe Peanut Butter Fudge
2 c. sugar
2/3 c. milk
1 c. smooth peanut butter
1 (7 oz) jar marshmallow creme
1 tsp vanilla
1 (6 oz) pkg semisweet chocolate morsels
Combine sugar & milk in heavy 2 qt. saucepan. Cook over low heat, stirring occasionally, until mixture reaches 236° (soft ball stage).
Remove from heat. Add peanut butter, marshmallow-creme, and vanilla. Beat to blend mixture. Pour into lightly buttered 8-inch sq. baking pan. Cool completely.
Melt. choc. morsels over hot water in the top of a double boiler and stir to blend. Spread over cooled fudge.
Cut into 1 1/4-inch squares.
Makes 36 pieces or 1 3/4 lb.
More Recipes For You To Enjoy: