This promo recipe was clipped from a label of canned Libby's Pumpkin and found in a large collection, date unknown. I've typed it below along with a scanned copy.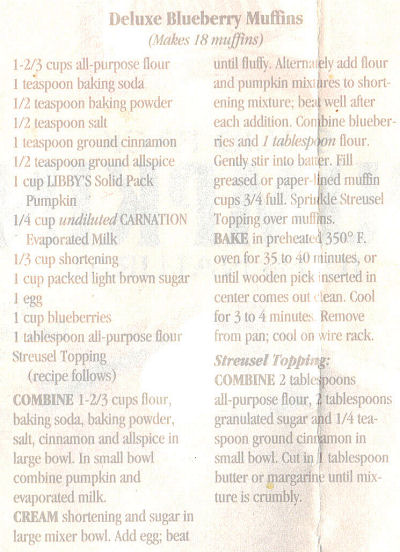 Deluxe Blueberry Muffins
(Makes 18 muffins)
1-2/3 cups all-purpose flour
1 teaspoon baking soda
1/2 teaspoon baking powder
1/2 teaspoon salt
1 teaspoon ground cinnamon
1/2 teaspoon ground allspice
1 cup LIBBY'S Solid Pack Pumpkin
1/4 cup undiluted CARNATION Evaporated Milk
1/3 cup shortening
1 cup packed light brown sugar
1 egg
1 cup blueberries
1 tablespoon all-purpose flour
Streusel Topping (recipe follows)
COMBINE 1-2/3 cups flour, baking soda, baking powder, salt, cinnamon and allspice in large bowl. In small bowl combine pumpkin and evaporated milk.
CREAM shortening and sugar in large mixer bowl. Add egg; beat until fluffy. Alternately add flour and pumpkin mixtures to shortening mixture; beat well after each addition. Combine blueberries and 1 tablespoon flour. Gently stir into batter. Fill greased or paper-lined muffin cups 3/4 full. Sprinkle Streusel Topping over muffins.
BAKE in preheated 350° F. oven for 35 to 40 minutes, or until wooden pick inserted in center comes out clean. Cool for 3 to 4 minutes. Remove from pan; cool on wire rack.
Streusel Topping:
COMBINE 2 tablespoons all-purpose flour, 2 tablespoons granulated sugar and 1/4 teaspoon ground cinnamon in small bowl. Cut in 1 tablespoon butter or margarine until mixture is crumbly.
More Recipes For You To Enjoy: