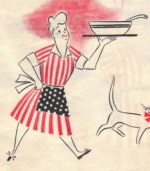 Here is page 4 of the WWII ration cookbook titled "Recipes For Today" that was published by General Foods Corporation in 1943. This was during the second world war when the United States was experiencing food rations and shortages (sugar, meat, etc.) and homemakers were looking for creative ways to feed their families.
You can view all the pages in this little book by visiting this category: Recipes For Today (WWII), just click a page title to view that section of the book. You'll find scans of the pages included below (click pictures to view a larger size) as well as a typed version for easy printing.
Dear Uncle Sam: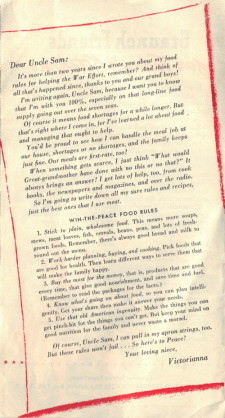 It's more than two years since I wrote you about my food rules for helping the War Effort, remember? And think of all that's happened since, thanks to you and our grand boys!
I'm writing again, Uncle Sam, because I want you to know that I'm with you 100%, especially on that long-line food supply going out over the seven seas.
Of course it means food shortages for a while longer. But that's right where I come in, for I've learned a lot about food and managing that ought to help.
You'd be proud to see how I can handle the meal job at our house, shortages or no shortages, and the family keeps just fine. Our meals are first-rate, too!
When something gets scarce, I just think "What would Great-grandmother have done with no this or no that?" It always brings an answer! I get lots of help, too, from cook books, the newspapers and magazines, and over the radio.
So I'm going to write down all my sure rules and recipes, just the best ones that I use most.
WIN-THE-PEACE FOOD RULES
Stick to plain, wholesome food. This means more soups, stews, meat loaves, fish, cereals, beans, peas, and lots of fresh-grown foods. Remember, there's always good bread and milk to round out the menu.
Work harder planning, buying, and cooking. Pick foods that are good for health. Then learn different ways to serve them that will make the family happy.
Buy the most for the money, that is, products that are good every time, that give good nourishment, and save time and fuel. (Remember to read the packages for the facts.)
Know what's going on about food, so you can plan intelligently. Get your share then make it answer your needs.
Use that old American ingenuity. Make the things you can get pinch-hit for the things you can't get. But keep your mind on good nutrition for the family and never waste a morsel.
Of course, Uncle Sam, I can pull in my apron strings, too. But these rules won't fail . . . So here's to Peace!
Your loving niece,
Victorianna
More Recipes For You To Enjoy: