This recipe was clipped from plastic packaging of some kind, probably from a box of dates. This is one of three recipes on the clipping. Date is unknown. Recipe is typed below along with a scanned copy, you'll find another recipe from this sheet here: Date-Nut Crunchies.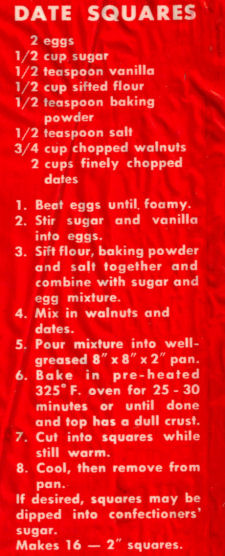 DATE SQUARES
2 eggs
1/2 cup sugar
1/2 teaspoon vanilla
1/2 cup sifted flour
1/2 teaspoon baking powder
1/2 teaspoon salt
3/4 cup chopped walnuts
2 cups finely chopped dates.
Beat eggs until foamy.
Stir sugar and vanilla into eggs.
Sift flour, baking powder and salt together and combine with sugar and egg mixture.
Mix in walnuts and dates.
Pour mixture into well-greased 8″x8″x2″ pan.
Bake in pre-heated 325°F. oven for 25-30 minutes or until done and top has a dull crust.
Cut into squares while still warm.
Cool, then remove from pan.
If desired, squares may be dipped into confectioners' sugar.
Makes 16 — 2″ squares.
More Recipes For You To Enjoy: