This recipe was clipped from a magazine and taped onto a white index card, tape is very yellow and brittle with age. Recipe is typed below along with a scanned copy. There's a note at the top that says "Another Recipe On Back", it was this one for Orange Scallop Cookies.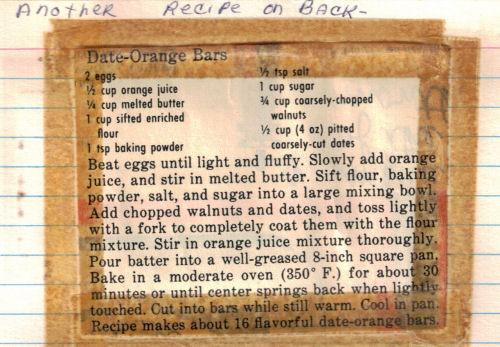 Date-Orange Bars
2 eggs
1/2 cup orange juice
1/4 cup melted butter
1 cup sifted enriched flour
1 tsp baking powder
1/2 tsp salt
1 cup sugar
3/4 cup coarsely-chopped walnuts
1/2 cup (4 oz) pitted coarsely-cut dates
Beat eggs until light and fluffy. Slowly add orange juice, and stir in melted butter. Sift flour, baking powder, salt, and sugar into a large mixing bowl. Add chopped walnuts and dates, and toss lightly with a fork to completely coat them with the flour mixture. Stir in orange juice mixture thoroughly. Pour batter into a well-greased 8-inch square pan. Bake in a moderate oven (350° F.) for about 30 minutes or until center springs back when lightly touched. Cut into bars while still warm. Cool in pan. Recipe makes about 16 flavorful date-orange bars.
More Recipes For You To Enjoy: