Here are two recipes clipped from a newspaper column written by "Betty Budget", date is unknown but there is an advertisement on the back listing a 5-digit telephone number so this was likely published sometime during 1940's or 1950's. I've typed the article below but note that for the first recipe there is a small corner piece that was torn off, the directions for that recipe are missing a few words (ingredients are intact) but I added what I believe to be the correct information. A scan of the recipe article is also posted below.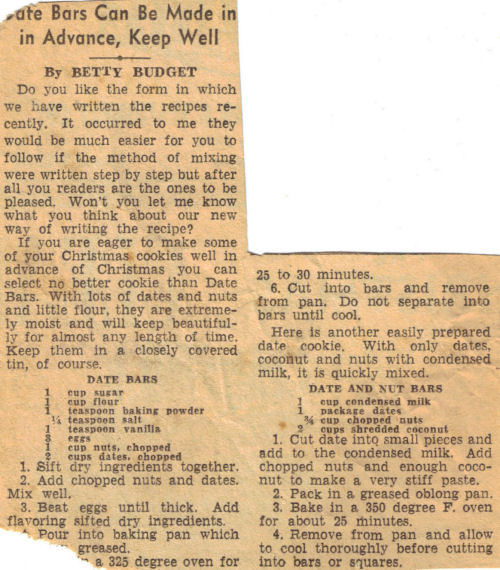 Date Bars Can Be Made in Advance, Keep Well
By BETTY BUDGET
Do you like the form in which we have written the recipes recently. It occurred to me they would be much easier for you to follow if the method of mixing were written step by step but after all you readers are the ones to be pleased. Won't you let me know what you think about our new way of writing the recipe?
If you are eager to make some of your Christmas cookies well in advance of Christmas you can select no better cookie than Date Bars. With lots of dates and nuts and little flour, they are extremely moist and will keep beautifully for almost any length of time. Keep them in a closely covered tin, of course.
DATE BARS
1 cup sugar
1 cup flour
1 teaspoon baking powder
1/4 teaspoon salt
1 teaspoon vanilla
3 eggs
1 cup nuts, chopped
2 cups dates, chopped
Sift dry ingredients together.
Add chopped nuts and dates. Mix well.
Beat eggs until thick. Add flavoring sifted dry ingredients.
Pour into baking pan which has been greased.
Bake in a 325 degree oven for 25 to 30 minutes.
Cut into bars and remove from pan. Do not separate into bars until cool.
Here is another easily prepared date cookie. With only dates, coconut and nuts with condensed milk, it is quickly mixed.
DATE AND NUT BARS
1 cup condensed milk
1 package dates
3/4 cup chopped nuts
2 cups shredded coconut
Cut date into small pieces and add to the condensed milk. Add chopped nuts and enough coconut to make a very stiff paste.
Pack in a greased oblong pan.
Bake in a 350 degree F. oven for about 25 minutes.
Remove from pan and allow to cool thoroughly before cutting into bars or squares.
More Recipes For You To Enjoy: