This recipe was clipped from cardboard packaging, likely a box of dates. Date unknown. Recipe is typed below along with a scanned copy.
DATE AND NUT CAKE
2 1/2 cups sifted all-purpose flour
1/2 teaspoon baking powder
1 teaspoon baking soda
1/2 teaspoon salt
1/2 cup butter or other shortening
1 cup sugar
2 eggs
1 cup sour or buttermilk
1 teaspoon grated orange rind
1/2 cup chopped nuts
1/2 cup finely cut dates
1/3-1/2 cup orange juice
Sift together first four ingredients. Cream butter, gradually blend in sugar. Add eggs, one at a time, and beat until light and fluffy. Add dry ingredients alternately with the milk, blending thoroughly after each addition. Fold in orange rind, nuts and dates. Pour into greased 9-inch tube pan, and bake in a moderately slow oven (325°F.) for about 1 hour, until cake feels firm when lightly touched. Immediately upon removing from oven, pour orange juice over cake. Let stand about two minutes, then loosen sides of cake and turn out of pan to cool. If desired, decorate with strips of dates and maraschino cherries. Serve with sweetened whipped cream or your favorite sauce.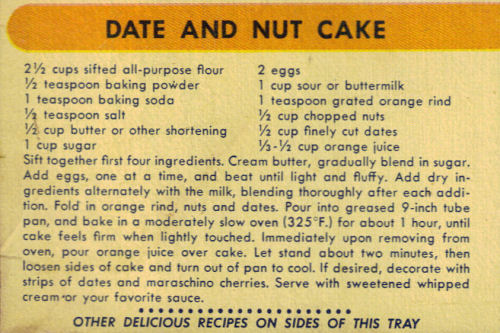 More Recipes For You To Enjoy: