This recipe was typed on a lined index card and found in a large collection, date unknown. Recipe is typed below along with a scanned copy.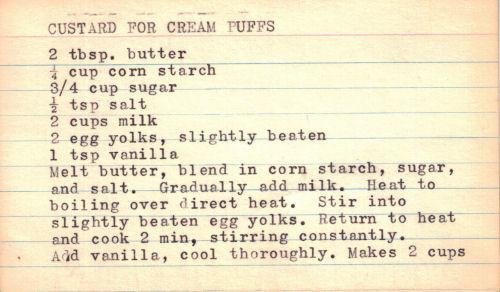 CUSTARD FOR CREAM PUFFS
2 tbsp. butter
1/4 cup corn starch
3/4 cup sugar
1/2 tsp salt
2 cups milk
2 egg yolks, slightly beaten
1 tsp vanilla
Melt butter, blend in corn starch, sugar, and salt. Gradually add milk. Heat to boiling over direct heat. Stir into slightly beaten egg yolks. Return to heat and cook 2 min, stirring constantly.
Add vanilla, cool thoroughly.
Makes 2 cups
More Recipes For You To Enjoy: