This is a promo recipe slip from Kroger that was found in a large collection, date unknown. I've typed it out below along with a scanned copy.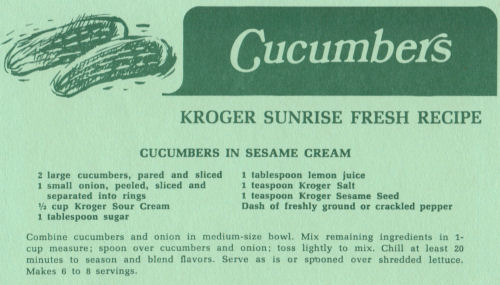 Cucumbers
KROGER SUNRISE FRESH RECIPE
CUCUMBERS IN SESAME CREAM
2 large cucumbers, pared and sliced
1 small onion, peeled, sliced and separated into rings
1/2 cup Kroger Sour Cream
1 tablespoon sugar
1 tablespoon lemon juice
1 teaspoon Kroger Salt
1 teaspoon Kroger Sesame Seed
Dash of freshly ground or crackled pepper
Combine cucumbers and onion in medium-size bowl. Mix remaining ingredients in 1-cup measure; spoon over cucumbers and onion; toss lightly to mix. Chill at least 20 minutes to season and blend flavors. Serve as is or spooned over shredded lettuce. Makes 6 to 8 servings.
More Recipes For You To Enjoy: