This promo recipe card is marked "FINGERTIP RECIPE CARDS T.M. NANCY SASSER" and was found in a large collection, date unknown. I've typed it below along with a scanned copy.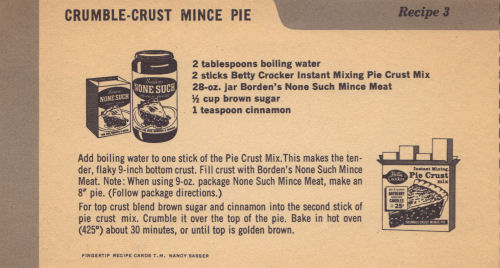 CRUMBLE-CRUST MINCE PIE
2 tablespoons boiling water
2 sticks Betty Crocker Instant Mixing Pie Crust Mix
28-oz. jar Borden's None Such Mince Meat
1/2 cup brown sugar
1 teaspoon cinnamon
Add boiling water to one stick of the Pie Crust Mix. This makes the tender, flaky 9-inch bottom crust. Fill crust with Borden's None Such Mince Meat. Note: When using 9-oz. package None Such Mince Meat, make an 8″ pie. (Follow package directions.)
For top crust blend brown sugar and cinnamon into the second stick of pie crust mix. Crumble it over the top of the pie. Bake in hot oven (425°) about 30 minutes, or until top is golden brown.
More Recipes For You To Enjoy: