This is a recipe advertisement (clipping) from French's Mustard that was in the Better Homes & Gardens magazine February, 1958. Recipe is below: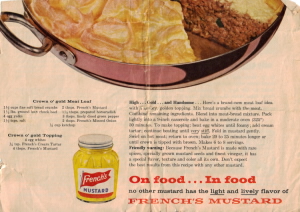 Crown o' gold Meat Loaf
1 1/2 cups fine soft bread crumbs
1 1/2 lbs. ground lean chuck beef
4 egg yolks
1 1/2 tsps. salt
2 tbsps. French's Mustard
1 1/2 tbsps. prepared horseradish
3 tbsps. finely diced green pepper
2 tbsps. French's Minced Onion
1/3 cup ketchup
Crown o' gold Topping
4 egg whites
1/4 tsp. French's Cream Tartar
4 tbsps. French's Mustard
High…Gold…and Handsome… Here's a brand-new meat loaf idea with a savory, golden topping. Mix bread crumbs with the meat. Combine remaining ingredients. Blend into meat-bread mixture. Pack lightly into a 9-inch casserole and bake in a moderate oven (325°) 30 minutes. To make topping: beat egg whites until foamy; add cream tartar; continue beating until very stiff. Fold in mustard gently. Swirl on hot meat; return to oven; bake 20 to 25 minutes longer or until crown is tipped with brown. Makes 6 to 8 servings.
Friendly warning: Because French's Mustard is made with rare spices, specially grown mustard seeds and finest vinegar, it has a special flavor, texture and color all its own. Don't expect the best results from this recipe with any other mustard.
On food…In food
no other mustard has the light and lively flavor of
French's Mustard
More Recipes For You To Enjoy: