This recipe pullout card from Family Circle magazine was found in a large collection, date marked is 1965. I've typed it below along with scans of the card (both sides).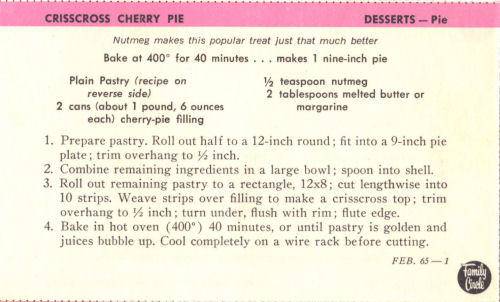 CRISSCROSS CHERRY PIE
DESSERTS–Pie
Nutmeg makes this popular treat just that much better
Bake at 400° for 40 minutes…makes 1 nine-inch pie
Plain Pastry (recipe below)
2 cans (about 1 pound, 6 ounces each) cherry-pie filling
1/2 teaspoon nutmeg
2 tablespoons melted butter or margarine
Prepare pastry. Roll out half to a 12-inch round; fit into a 9-inch pie plate; trim overhang to 1/2 inch.
Combine remaining ingredients in a large bowl; spoon into shell.
Roll out remaining pastry to a rectangle, 12×8; cut lengthwise into 10 strips. Weave strips over filling to make a crisscross top; trim overhang to 1/2 inch; turn under, flush with rim; flute edge.
Bake in hot oven (400°) 40 minutes, or until pastry is golden and juices bubble up. Cool completely on a wire rack before cutting.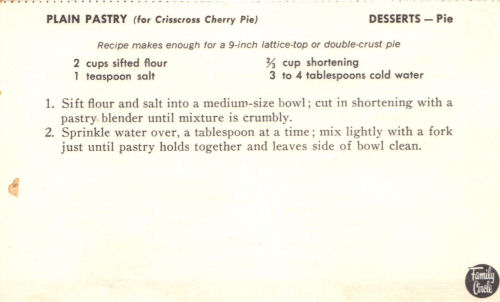 PLAIN PASTRY (for Crisscross Cherry Pie)
DESSERTS–Pie
Recipe makes enough for a 9-inch lattice-top or double-crust pie
2 cups sifted flour
1 teaspoon salt
2/3 cup shortening
3 to 4 tablespoons cold water
Sift flour and salt into a medium-size bowl; cut in shortening with a pastry blender until mixture is crumbly.
Sprinkle water over, a tablespoon at a time; mix lightly with a fork just until pastry holds together and leaves side of bowl clean.
More Recipes For You To Enjoy: