Vintage magazine recipe clipping. Date and magazine unknown.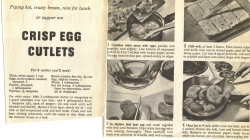 Piping hot, crusty brown, nice for lunch or supper are
CRISP EGG CUTLETS
For 8 cutlets you'll need:
Thick white sauce, 1 cup
Eggs, hard-cooked, coarsely chopped, 5
Parsley, chopped, 2 tablespoons
Paprika, 1/4 teaspoon
Bread crumbs, fine dry, 3/4 cup
Egg, slightly beaten, 1
Water, 1 tablespoon
Fat for frying, 4 tablespoons (may be shortening, salad oil or drippings)
For white sauce: Melt 3 tablespoons butter or margarine in 1-quart saucepan over low heat; add 4 tablespoons flour, 1 teaspoon salt, dash of pepper; stir and cook until well blended and bubbly. Remove from heat, slowly stir in 1 cup milk or half evaporated milk and half water. Cook over low heat, stirring constantly, until the sauce is very thick and the mixture comes to a boil.
Combine white sauce with eggs, parsley and paprika; cool slightly. Line bottom of ungreased pan (8 by 8 by 2 inches) with waxed paper, spoon the egg mixture into pan, spread evenly to edges.
Chill well, at least 3 hours. Then loosen edges with knife, turn out on waxed paper, peel off the lining paper. Cut into 8 equal portions, roll each in crumbs and form into cutlet shape with fingers.
In shallow dish beat egg and water together with fork until blended. Dip cutlets into egg mixture, coating thoroughly. Then carefully turn them over and over in crumbs until well covered.
Heat fat in 9-inch skillet over low heat; put in 4 cutlets, brown one side, turn and brown other side. Remove to absorbent paper; keep warm while you brown rest of cutlets. Serve piping hot.
More Recipes For You To Enjoy: