This is a full page Crisco recipe ad in a 1949 issue of Better Homes & Gardens. It's a bit too large to fully fit on my scanner, but most of the copy can be seen below (click picture to view a larger size). The recipe is for chocolate cake with orange icing, but the orange icing recipe isn't included–it's in the Crisco cook book that's advertised on the page.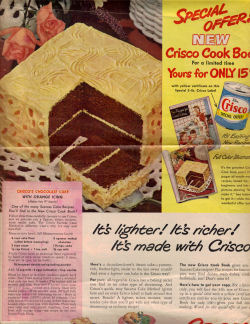 It's lighter! It's richer!
It's made with Crisco!
Here's a chocolate-lover's dream cake–yummy-rich, feather-light, moist to the last sweet crumb! And even a beginner can bake it the Crisco way!
For pure, all-vegetable Crisco has a baking secret you find in no other type of shortening. And Crisco's quick, easy Success Cake Method (given here and on every Crisco label) is built around that secret. Result? A lighter, richer, moister, more tender cake than you'll get with any other type of shortening or ordinary recipe!
CRISCO'S CHOCOLATE CAKE
WITH ORANGE ICING
(Makes two 9″ layers)
One of the many Success Cake Recipes
You'll find in the New Crisco Cook Book!
Follow directions carefully, be sure to use Crisco, and we promise you a lighter, richer, moister, more tender cake. The Crisco Success Cake Method is different–that's why it's easy and sure-fire!
Measure into bowl: (All Measurements Level)
2 cups cake flour (sifted before measuring)
2 cups sugar
1/2 cup Crisco
1 tsp. salt
3 squares melted chocolate
1 1/2 tsps. soda
3/4 cup milk
Fluffy Crisco needs no creaming! Beat vigorously by hand or with mixer (medium speed) 2 mins. Now stir in (yes, all by itself):
3/4 teaspoon double-acting baking powder
Add: 1/2 cup milk; 3 eggs (unbeaten); 1 tsp. vanilla
Blend by hand or in mixer (medium speed) for 2 mins. (See? Total mixing time's a mere 4 minutes! And only one bowl to wash.) The batter will be smooth and thin. Pour into 2 square layer pans (9″ x 1 1/2″ deep), rubbed with Crisco, lined with waxed paper. (With smaller pans, fill half full; bake cup cakes with remaining batter.) Bake in moderate oven (350°F.) about 40 minutes. Cool cake in pan on rack for 15 mins. before removing. Loosen edges from pan with spatula. Place rack over cake and pan; invert together. Cool and frost with orange icing–see recipe in the new Crisco Cook Book.
More Recipes For You To Enjoy: