This recipe comes from a label that was removed from a can of Crisco, date unknown. Recipe is typed below along with a scanned copy.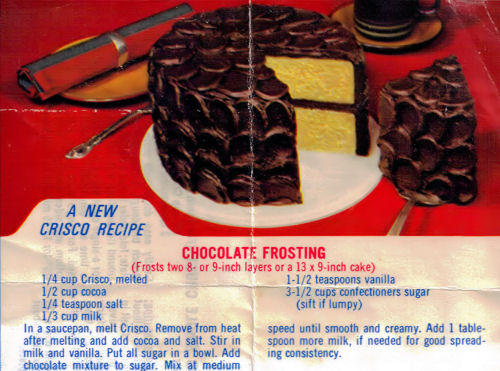 A NEW CRISCO RECIPE
CHOCOLATE FROSTING
(Frosts two 8- or 9-inch layers or a 13 x 9-inch cake)
1/4 cup Crisco, melted
1/2 cup cocoa
1/4 teaspoon salt
1/3 cup milk
1-1/2 teaspoons vanilla
3-1/2 cups confectioners sugar (sift if lumpy)
In a saucepan, melt Crisco. Remove from heat after melting and add cocoa and salt. Stir in milk and vanilla. Put all sugar in a bowl. Add chocolate mixture to sugar. Mix at medium speed until smooth and creamy. Add 1 tablespoon more milk, if needed for good spreading consistency.
More Recipes For You To Enjoy: