Here is a recipe for Crescent Pastries that is handwritten on a recipe card. Found in an old box of recipes, date unknown. Typed below as-is.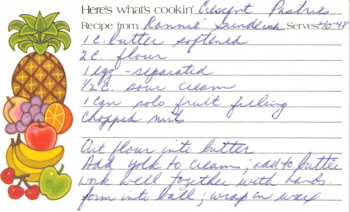 Crescent Pastries
Serves 40-48
1 c. butter softened
2 c. flour
1 egg – separated
1/2 c. sour cream
1 can Solo Fruit Filling*
chopped nuts
Cut flour into butter.
Add yolk to cream; add to butter. Work well together with hands, form into ball; wrap in wax paper & refrig. overnight (or freeze).
Cut dough into quarters
Roll into 9 inch circle, spread with filling; sprinkle w. nuts.
Cut into pizza pie wedges & roll up like a crescent roll; dab w. eggwhite.
Bake at 350° 25-30 min on an ungreased sheet.
*Solo is a brand name
More Recipes For You To Enjoy: