This is the back of a promo recipe card (paper) that's likely from Cracker Barrel since its cheddar cheese is listed as an ingredient. This was found in a large collection, date unknown. Recipe is typed below along with a scanned copy.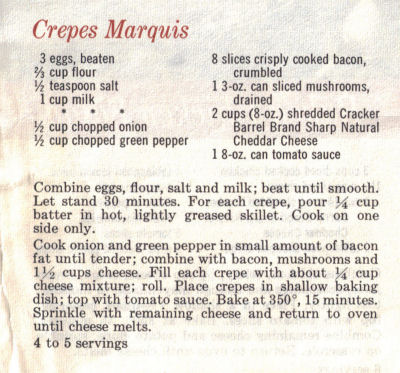 Crepes Marquis
3 eggs, beaten
2/3 cup flour
1/2 teaspoon salt
1 cup milk
* * *
1/2 cup chopped onion
1/2 cup chopped green pepper
8 slices crisply cooked bacon, crumbled
1 3-oz. can sliced mushrooms, drained
2 cups (8-oz.) shredded Cracker Barrel Brand Sharp Natural Cheddar Cheese
1 8-oz. can tomato sauce
Combine eggs, flour, salt and milk; beat until smooth. Let stand 30 minutes. For each crepe, pour 1/4 cup batter in hot, lightly greased skillet. Cook on one side only.
Cook onion and green pepper in small amount of bacon fat until tender; combine with bacon, mushrooms and 1 1/2 cups cheese. Fill each crepe with about 1/4 cup cheese mixture; roll. Place crepes in shallow baking dish; top with tomato sauce. Bake at 350°, 15 minutes. Sprinkle with remaining cheese and return to oven until cheese melts.
4 to 5 servings
More Recipes For You To Enjoy: