This promo recipe card from Rice Chex was found in a large collection, date unknown. I've typed it out below along with a scanned copy (both sides).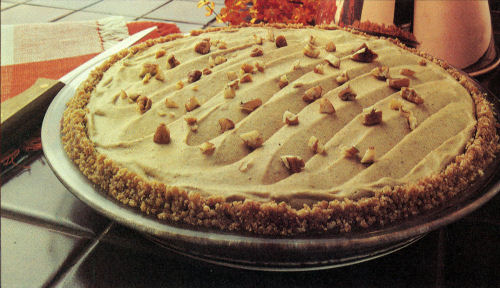 Creamy Pumpkin Pie
A delicious ending for Thanksgiving dinner
Chex Crust
5 cups Rice Chex cereal crushed to 1 1/4 cups
1/3 cup packed brown sugar
1/4 teaspoon cinnamon
7 tablespoons butter or margarine, melted
Filling
1/2 teaspoon unflavored gelatin
2/3 cup milk
30 large or 3 cups miniature marshmallows
1 can (16 oz.) solid pack pumpkin
1 teaspoon cinnamon
1/4 teaspoon ground ginger
1/8 teaspoon ground allspice
2 cups thawed frozen whipped topping
To prepare Chex Crust, preheat oven to 300°. Butter 10-inch pie plate. Combine Rice Chex crumbs, sugar and cinnamon. Add melted butter. Mix thoroughly. Press evenly onto bottom and sides of pie plate. Bake 10 minutes. Cool completely.
To prepare Filling, soften gelatin in milk in medium-size saucepan. Heat and stir over low heat until dissolved. Add marshmallows. Continue to heat and stir until marshmallows are melted. Remove from heat. Combine pumpkin and spices in large mixing bowl. Stir in marshmallow mixture until thoroughly blended. Chill about 1 hour. Beat 1-2 minutes on high speed of electric mixer. Add topping. Beat on low speed just until combined. Turn into crust. Chill at least 3 hours or until set.
Makes 8 – 10 servings.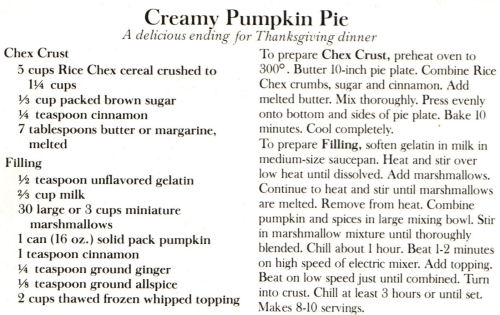 More Recipes For You To Enjoy: