This recipe was clipped from a magazine and found in a large collection, date unknown. Recipe is typed below along with a scanned copy.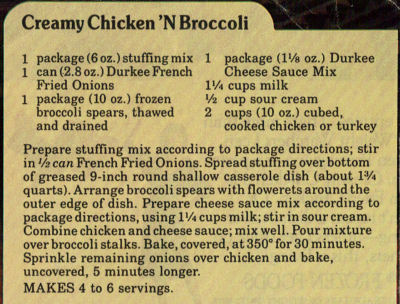 Creamy Chicken 'N Broccoli
1 package (6 oz.) stuffing mix
1 can (2.8 oz.) Durkee French Fried Onions
1 package (10 oz.) frozen broccoli spears, thawed and drained
1 package (1 1/8 oz.) Durkee Cheese Sauce Mix
1 1/4 cups milk
1/2 cup sour cream
2 cups (10 oz.) cubed, cooked chicken or turkey
Prepare stuffing mix according to package directions; stir in 1/2 can French Fried Onions. Spread stuffing over bottom of greased 9-inch round shallow casserole dish (about 1 3/4 quarts). Arrange broccoli spears with flowerets around the outer edge of dish. Prepare cheese sauce mix according to package directions, using 1 1/4 cups milk; stir in sour cream. Combine chicken and cheese sauce; mix well. Pour mixture over broccoli stalks. Bake, covered, at 350° for 30 minutes. Sprinkle remaining onions over chicken and bake, uncovered, 5 minutes longer.
MAKES 4 to 6 servings.
More Recipes For You To Enjoy: