Here's an old newspaper clipping featuring two different favorite fudge recipes sent in by one of their readers. Date is unknown. Recipes are typed below along with a scanned copy.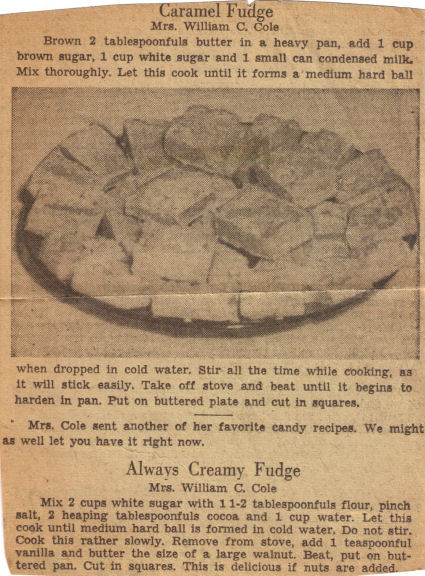 Caramel Fudge
Mrs. William C. Cole
Brown 2 tablespoonfuls butter in a heavy pan, add 1 cup brown sugar, 1 cup white sugar and 1 small can condensed milk. Mix thoroughly. Let this cook until it forms a medium hard ball when dropped in cold water. Stir all the time while cooking, as it will stick easily. Take off stove and beat until it begins to harden in pan. Put on buttered plate and cut in squares.
Mrs. Cole sent another of her favorite candy recipes. We might as well let you have it right now.
Always Creamy Fudge
Mrs. William C. Cole
Mix 2 cups white sugar with 1 1-2 tablespoonfuls flour, pinch salt, 2 heaping tablespoonfuls cocoa and 1 cup water. Let this cook until medium hard ball is formed in cold water. Do not stir. Cook this rather slowly. Remove from stove, add 1 teaspoonful vanilla and butter the size of a large walnut. Beat, put on buttered pan. Cut in squares. This is delicious if nuts are added.
More Recipes For You To Enjoy: