This is an old magazine clipping, date unknown. Nice and easy instructions for making cream puffs. Recipe follows image below.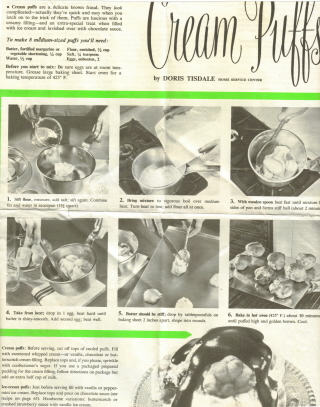 Cream Puffs
by DORIS TISDALE
HOME SERVICE CENTER
Cream puffs are a delicate brown fraud. They look complicated–actually they're quick and easy when you latch on to the trick of them. Puffs are luscious with a creamy filling–and an extra-special treat when filled with ice cream and lavished over with chocolate sauce.
To make 8 medium-sized puffs you'll need:
Butter, fortified margarine or vegetable shortening, 1/4 cup
Water, 1/2 cup
Flour, enriched, 1/2 cup
Salt, 1/4 teaspoon
Eggs, unbeaten, 2
Before you start to mix: Be sure eggs are at room temperature. Grease large baking sheet. Start oven for a baking temperature of 425° F.
Sift flour, measure, add salt; sift again. Combine fat and water in saucepan (1 1/2 quart).
Bring mixture to vigorous boil over medium heat. Turn heat to low; add flour all at once.
With wooden spoon beat fast until mixture leaves sides of pan and forms stiff ball (about 2 minutes).
Take from heat; drop in 1 egg, beat hard until batter is shiny-smooth. Add second egg; beat well.
Batter should be stiff; drop by tablespoonfuls on baking sheet 2 inches apart, shape into rounds.
Bake in hot oven (425° F.) about 30 minutes–or until puffed high and golden brown. Cool.
Cream puffs: Before serving, cut off tops of cooled puffs. Fill with sweetened whipped cream–or vanilla, chocolate or butterscotch cream filling. Replace tops and, if you please, sprinkle with confectioner's sugar. If you use a packaged prepared pudding for the cream filling, follow directions on package but add an extra half cup of milk.
Ice-cream puffs: Just before serving fill with vanilla or peppermint ice cream. Replace tops and pour on chocolate sauce (see recipe on page 65).* Handsome variations: butterscotch or crushed strawberry sauce with vanilla ice cream.
*RecipeCurio note: no copy of chocolate sauce recipe available at this time.
More Recipes For You To Enjoy: