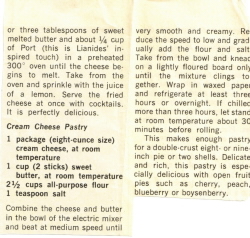 Magazine clipping, date unknown and magazine unknown.
Cream Cheese Pastry
1 package (eight-ounce size) cream cheese, at room temperature
1 cup (2 sticks) sweet butter, at room temperature
2 1/2 cups all-purpose flour
1 teaspoon salt
Combine the cheese and butter in the bowl of the electric mixer and beat at medium speed until very smooth and creamy. Reduce the speed to low and gradually add the flour and salt. Take from the bowl and knead on a lightly floured board only until the mixture clings together. Wrap in waxed paper and refrigerate at least three hours or overnight. If chilled more than three hours, let stand at room temperature about 30 minutes before rolling.
This makes enough pastry for a double-crust eight- or nine-inch pie or two shells. Delicate and rich, this pastry is especially delicious with open fruit pies such as cherry, peach, blueberry or boysenberry.
More Recipes For You To Enjoy: