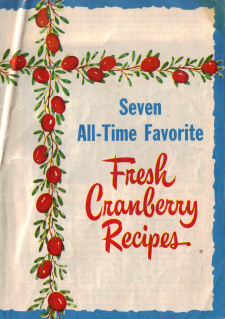 This recipe comes from a vintage recipe pamphlet distributed by Ocean Spray Cranberry Products, date unknown. The pamphlet features seven different fresh cranberry recipes…this is the Cranberry Skillet Pie recipe, typed below along with a scanned copy of the page at the bottom.
Shortcake pastry and gleaming whole cranberries are perfect together in this easy-to-make fresh berry pie. Serve alone, or with big scoops of vanilla ice cream, or spoonfuls of fluffy whipped cream. You'll count it among your favorites once you try it.
Brings Raving Compliments…
Cranberry Skillet Pie
1 recipe favorite biscuit or shortcake dough*
1 tablespoon (1 envelope) plain gelatine softened in…
1/2 cup cold water, then dissolved in…
1/2 cup hot honey
1 1/2 cups sifted confectioners sugar mixed with…
1/2 teaspoon cinnamon
4 cups (1 lb.) Ocean Spray Fresh Cranberries
HAVE READY: Shortcake dough, gelatine-honey mixture, cranberries mixed with sugar and cinnamon, and 8″ or 9″ skillet or cake pan lightly greased.
Roll out dough to form circle 4″ to 6″ larger than pan; scallop edge with crescent cutter or knife; fit it into pan letting extra dough hang evenly over edge. Pile in sugared berries and fold extra dough toward center; pinch and shape edge to form flat petals. Bake in hot (450°F.) oven 10 min.; reduce heat to moderate (350°F.) bake 15 min. more. Pour hot honey mixture over filling, stir to coat berries and bake another 10 min. Chill until set.
*Shortcake recipe on Bisquick box makes enough for 8″ or 9″ pan and 4 biscuits.
No need to thaw frozen cranberries; use as you would fresh cranberries.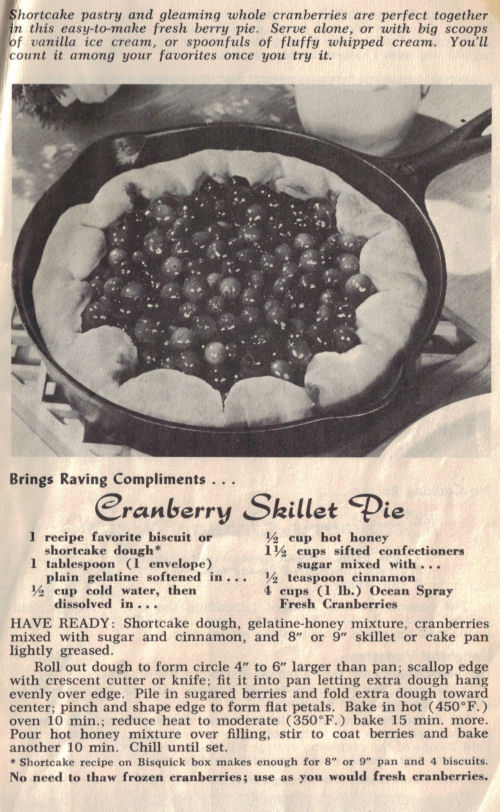 More Recipes For You To Enjoy: