Here's a handwritten recipe on a sheet of lined paper, the side of the page is somewhat brittle and yellow with age. Date this was written unknown, found in a large collection of old recipes.
Cranberry Horse-radish Relish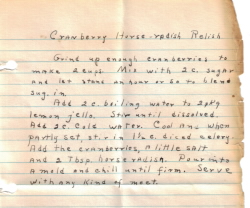 Grind up enough cranberries to make 2 cups. Mix with 2 c. sugar and let stand an hour or so to blend sug. in.
Add 2 c. boiling water to 2 pkg lemon jello. Stir until dissolved. Add 2 c. cold water. Cool and when partly set, stir in 1 1/2 c. diced celery. Add the cranberries, a little salt and 2 Tbsp. horseradish. Pour into a mold and chill until firm. Serve with any kind of meat.
More Recipes For You To Enjoy: