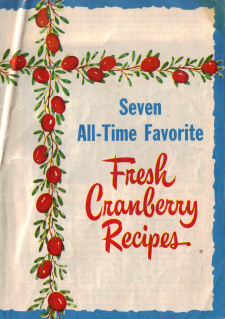 This recipe comes from a vintage recipe pamphlet distributed by Ocean Spray Cranberry Products, date unknown. The pamphlet features seven different fresh cranberry recipes…this is the Cranberry Fruit Medley recipe page, typed below along with a scanned copy of the page at the bottom.
A delicious autumn fruit mixture you'll use in dozens of ways. Cranberries, apples and bananas blend to make this perfectly delicious fruit medley. Easy too! You'll want to serve it often while Fresh Cranberries are in season.
Quick and Easy…
Cranberry Fruit Medley
2 cups (1/2 lb.) Ocean Spray Fresh Cranberries
1 medium apple (core and seeds removed)
1 large banana, diced
2/3 cup sugar
Coarsely chop cranberries and apple. Add diced banana and sugar; stir until fruit and sugar is well blended. Place in refrigerator for two or three hours so that flavors will mingle. Serves 4-6.
Four Ways to Serve…
As shortcake…spoon fruit medley between layers and over top of split biscuits. Snow-cap with fluffy whipped cream.
Cranberry Fruit Medley…in individual serving dishes with a scoop of lemon sherbet on top.
Fruit Ambrosia…omit the sherbet and sprinkle with plain or toasted coconut just before serving.
Fruit Melba…Peach or pear halves and ice cream covered with Cranberry Fruit Medley.
Keep a supply of Ocean Spray Fresh Cranberries "Freezer Handy".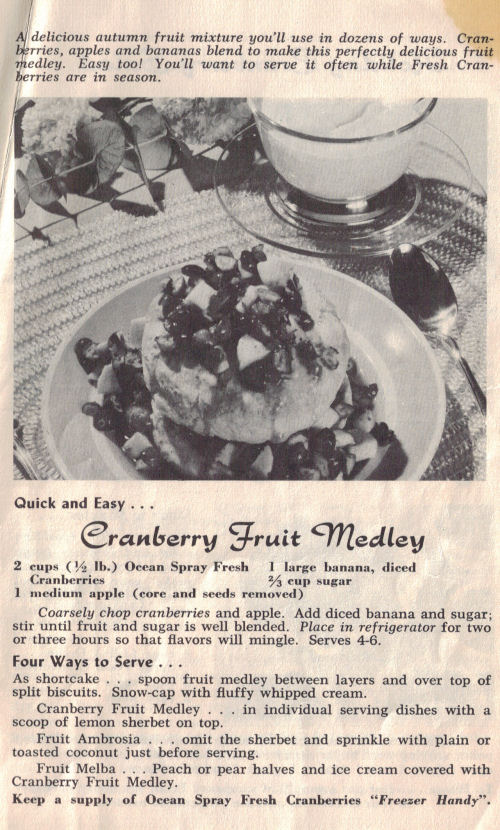 More Recipes For You To Enjoy: