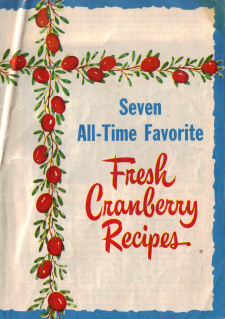 This recipe comes from a vintage recipe pamphlet distributed by Ocean Spray Cranberry Products, date unknown. The pamphlet features seven different fresh cranberry recipes…this is the Cranberry Fruit Bread recipe, typed below along with a scanned copy of the page at the bottom.
This recipe came from Wilbern's Restaurant in Wisconsin Rapids. It's the best cranberry bread we've ever tasted. Keeps moist for days. Freezes well, too. Delicious with coffee or tea, or toasted for breakfast.
Cranberry Fruit Bread
2 cups sifted all-purpose flour
1 cup sugar
1 1/2 teaspoon baking powder (double-acting)
1/2 teaspoon soda
1 teaspoon salt
Juice and grated rind of 1 orange
2 tablespoons melted shortening
1 egg, well beaten
1/2 cup chopped nuts
2 cups Ocean Spray Fresh cranberries, cut in halves
Sift together flour, sugar, baking powder, soda, and salt. Combine orange juice, grated rind, melted shortening, and enough water to make 3/4 cup juice; then stir in beaten egg. Pour this mixture into the dry ingredients, mixing just enough to dampen. Fold in halved cranberries and nuts. Spoon into greased loaf pan (9″x5″x3″) spreading it evenly making corners and sides slightly higher than center. Bake in moderate oven (350°F.) 50-60 minutes. Remove from pan. Cool. Store overnight for easy slicing.
Serve tantalizing Fresh Cranberry dishes the whole year round.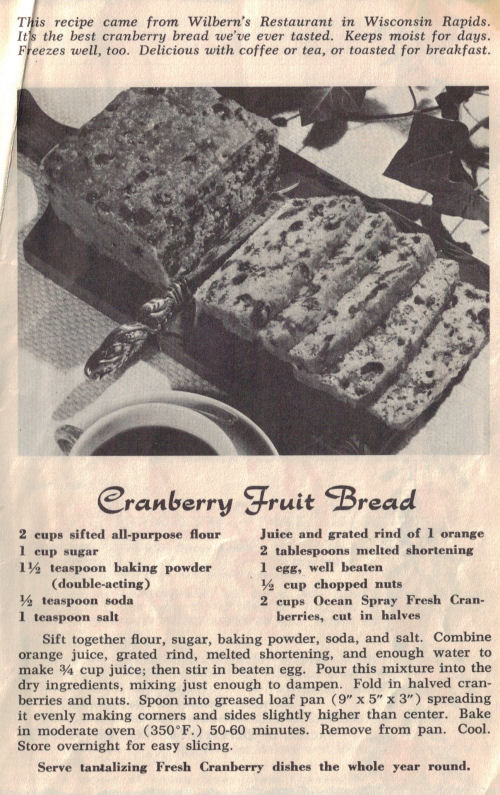 More Recipes For You To Enjoy: