This recipe was written on a sheet of paper and found in a large collection, date unknown. I've typed it below along with a scanned copy (front side only).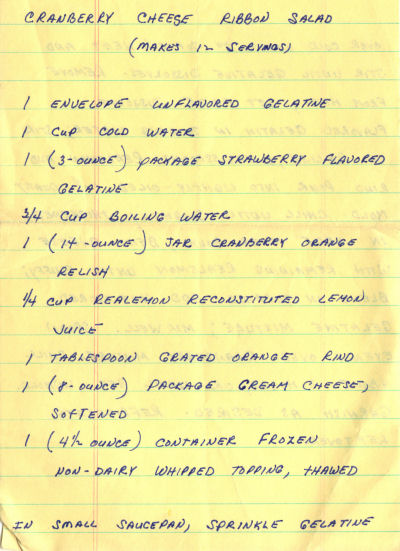 Cranberry Cheese Ribbon Salad
(Makes 12 servings)
1 envelope unflavored gelatine
1 cup cold water
1 (3-ounce) package strawberry flavored gelatine
3/4 cup boiling water
1 (14-ounce) jar cranberry orange relish
1/4 cup Realemon reconstituted lemon juice
1 tablespoon grated orange rind
1 (8-ounce) package cream cheese, softened
1 (4 1/2 ounce) container frozen non-dairy whipped topping, thawed
In small saucepan, sprinkle gelatine over cold water to soften; heat and stir until gelatine dissolves. Remove from heat; set aside. Dissolve flavored gelatin in boiling water; stir in relish, 2 tablespoons Realemon and rind. Pour into lightly-oiled 1-1/2 quart mold. Chill until slightly thickened.
In large mixer bowl, beat cheese with remaining Realemon until fluffy; blend in topping. Add unflavored gelatine mixture; mix well. Spoon evenly over cranberry mixture.
Chill about 3 hours, or until set. Unmold. Garnish as desired. Refrigerate leftovers.
More Recipes For You To Enjoy: