This is a promo recipe card from Fazio that was found in a large collection, date unknown. I've typed it below along with a scanned copy.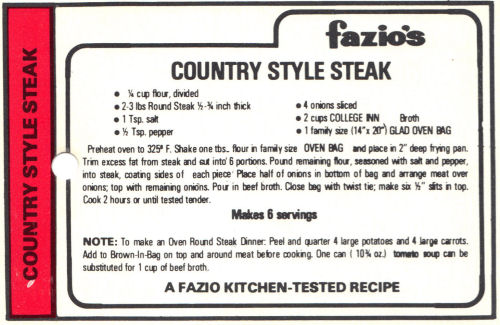 fazio's
COUNTRY STYLE STEAK
1/4 cup flour, divided
2-3 lbs Round Steak 1/2-3/4 inch thick
1 Tsp. salt
1/2 Tsp. pepper
4 onions sliced
2 cups COLLEGE INN Broth
1 family size (14″ x 20″) GLAD OVEN BAG
Preheat oven to 325° F. Shake one tbs. flour in family size OVEN BAG and place in 2″ deep frying pan. Trim excess fat from steak and cut into 6 portions. Pound remaining flour, seasoned with salt and pepper into steak, coating sides of each piece. Place half of onions in bottom of bag and arrange meat over onions; top with remaining onions. Pour in beef broth. Close bag with twist tie; make six 1/2″ slits in top. Cook 2 hours or until tested tender.
Makes 6 servings
NOTE: To make an Oven Round Steak Dinner: Peel and quarter 4 large potatoes and 4 large carrots. Add to Brown-In-Bag on top and around meat before cooking. One can (10 3/4 oz.) tomato soup can be substituted for 1 cup of beef broth.
A FAZIO KITCHEN-TESTED RECIPE
More Recipes For You To Enjoy: