This recipe was clipped from a magazine and found in a large collection, date unknown. Recipe is typed below along with a scanned copy.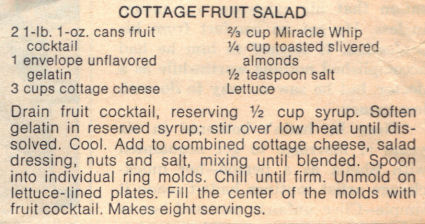 COTTAGE FRUIT SALAD
2 1-lb. 1-oz. cans fruit cocktail
1 envelope unflavored gelatin
3 cups cottage cheese
2/3 cup Miracle Whip
1/4 cup toasted slivered almonds
1/2 teaspoon salt
Lettuce
Drain fruit cocktail, reserving 1/2 cup syrup. Soften gelatin in reserved syrup; stir over low heat until dissolved. Cool. Add to combined cottage cheese, salad dressing, nuts and salt, mixing until blended. Spoon into individual ring molds. Chill until firm. Unmold on lettuce-lined plates. Fill the center of the molds with fruit cocktail. Makes eight servings.
More Recipes For You To Enjoy: