This recipe was clipped from a newspaper, date unknown but probably sometime between the 1970s and 1990s. Recipe is typed below along with a scanned copy.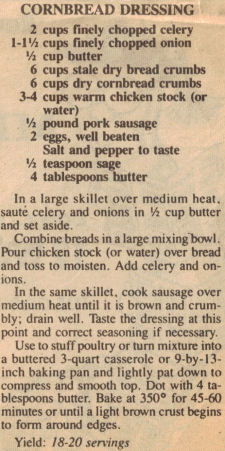 CORNBREAD DRESSING
2 cups finely chopped celery
1 – 1 1/2 cups finely chopped onion
1/2 cup butter
6 cups stale dry bread crumbs
6 cups dry cornbread crumbs
3 – 4 cups warm chicken stock (or water)
1/2 pound pork sausage
2 eggs, well beaten
Salt and pepper to taste
1/2 teaspoon sage
4 tablespoons butter
In a large skillet over medium heat, sauté celery and onions in 1/2 cup butter and set aside.
Combine breads in a large mixing bowl. Pour chicken stock (or water) over bread and toss to moisten. Add celery and onions.
In the same skillet, cook sausage over medium heat until it is brown and crumbly; drain well. Taste the dressing at this point and correct seasoning if necessary.
Use to stuff poultry or turn mixture into a buttered 3-quart casserole or 9-by-13-inch baking pan and lightly pat down to compress and smooth top. Dot with 4 tablespoons butter. Bake at 350° for 45-60 minutes or until a light brown crust begins to form around edges.
Yield: 18-20 servings
More Recipes For You To Enjoy: