This recipe was written on an index card and found in a large collection, date unknown. Recipe is typed below along with a scanned copy.
Corn Light Bread
1 tsp soda
1 tsp salt
1/4 tsp baking powder
2 c. corn meal
1/2 c. sugar
4 Tbsp. shortening
2 c. buttermilk
1/2 c. flour
Put sugar, salt, soda & baking powder in a bowl and add buttermilk. Stir well. Then add corn meal & flour alternately.
Melt shortening in loaf pan and add to mixture.
Sprinkle a little corn meal in loaf pan.
Heat pan, and pour mixture into the hot pan.
Bake in moderate oven (350°) 45 to 60 minutes.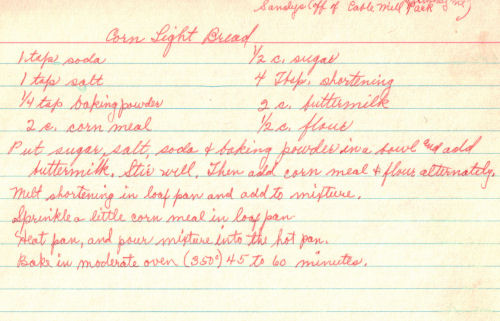 More Recipes For You To Enjoy: