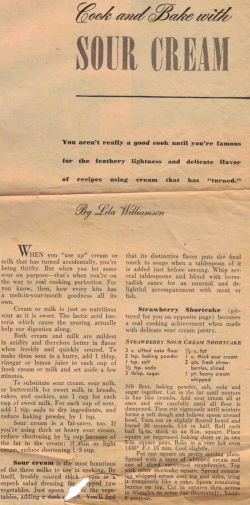 This article has tips for souring fresh cream as well as a recipe for a Strawberry Sour Cream Shortcake. It comes from the Farm Journal dated 1947 and is typed below along with a scanned copy that you can click to view larger. There is a small bit of damage on the bottom of the article but I was able to figure out the few missing words.
Cook and Bake with
SOUR CREAM
You aren't really a good cook until you're famous for the feathery lightness and delicate flavor of recipes using cream that has "turned."
By Lila Williamson
When you "use up" cream or milk that has turned accidentally, you're being thrifty. But when you let some sour on purpose–that's when you're on the way to real cooking perfection. For you know, then, how every bite has a melt-in-your-mouth goodness all its own.
Cream or milk is just as nutritious sour as it is sweet. The lactic acid bacteria which cause the souring actually help our digestion along.
Both cream and milk are mildest in acidity and therefore better in flavor when freshly and quickly soured. To make them sour in a hurry, add 1 tblsp. vinegar or lemon juice to each cup of fresh cream or milk and set aside a few minutes.
To substitute sour cream, sour milk, or buttermilk for sweet milk in breads, cakes, and cookies, use 1 cup for each cup of sweet milk. For each cup of sour, add 1 tsp. soda to dry ingredients, and reduce baking powder by 1 tsp.
Sour cream is a fat-saver, too. If you're using thick or heavy sour cream, reduce shortening by 1/2 cup because of the fat in the cream; if thin or light cream, reduce shortening 1/3 cup.
Sour cream is the most luxurious of the three milks to use in cooking. By itself, freshly soured thick cream is a superb salad dressing for dipped raw vegetables. Just spoon over the vegetables adding a dash of salt. You'll find that its distinctive flavor puts the final touch to soups when a tablespoon of it is added just before serving. Whip several tablespoons and blend with horseradish sauce for an unusual and delightful accompaniment with meat or fish.
Strawberry Shortcake becomes a real cooking achievement when made with delicate sour cream pastry.
STRAWBERRY SOUR CREAM SHORTCAKE
3 c. sifted cake flour
2 tsp. baking powder
1 tsp. salt
1/2 tsp. soda
3 tblsp. sugar
1/2 c. fat
1 c. thick sour cream
2 qts. fresh strawberries, sliced
1 pt. heavy cream whipped
Sift flour, baking powder, salt, soda and sugar together. Cut in the fat until mixture is fine like crumbs. Add sour cream all at once and stir carefully until all flour is dampened. Then stir vigorously until mixture forms a soft dough and follows spoon around bowl. Turn out on slightly floured board and knead 30 seconds. Cut in half. Roll each half 1/4-in. thick to an 8-in. square. Place square on ungreased baking sheet or in two 8-in. square pans. Bake in a very hot oven (450° F.) 15 min. Cool slightly.
Put one square on pretty serving plate. Spread with a layer of whipped cream and one of sliced sweetened strawberries. Top with other shortcake square. Spread remaining whipped cream over top and sides, icing it completely like a cake. Spoon remaining berries on top. Cut in squares then across in triangles to serve. Yield: 8 portions.
More Recipes For You To Enjoy: