This recipe was clipped from the American Home magazine that was published from 1928 to 1977, date of this clipping is unknown. Recipe is typed below along with a scanned copy of both sides.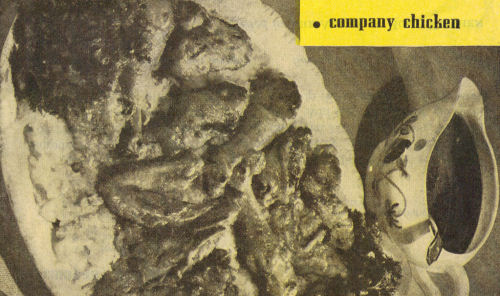 Company Chicken
Preparation time: 1 1/2 hrs.
2 3-lb. fowls cut up
salt, pepper
flour
4 tbs. fat
2 cups tomato juice
1/2 cup celery
3 tbs. chopped onion
2 bay leaves
hot cooked rice
1/2 cup milk or 1/4 cup evaporated milk and 1/4 cup water
SPRINKLE chicken with salt and pepper; dip in flour and brown thoroughly in the hot fat. Add tomato juice, celery, onion, and bay leaves. Cover with a tight lid and bake in a moderate oven 350°F for 1 hour. Remove chicken from pan onto platter of cooked rice. Add the milk to the gravy in the pan, stirring constantly for 3 minutes on top the stove. Serve gravy over chicken.
Serves: 6-8
280 cal. per serving
Source of vitamins C, B complex
Tested in THE AMERICAN HOME KITCHEN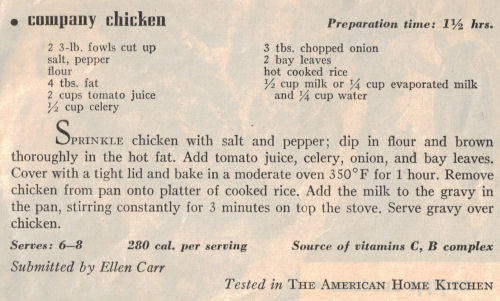 More Recipes For You To Enjoy: