This recipe clipping comes from a large lot of old recipe clippings for pickles, jams, jellies, relishes and more. Date is unknown but the recipes in this lot suggest 1940s through to the 1960s. Recipe is typed below.
Before using this recipe, it's important to read this page, the "Safe Canning & Food Preservation" section.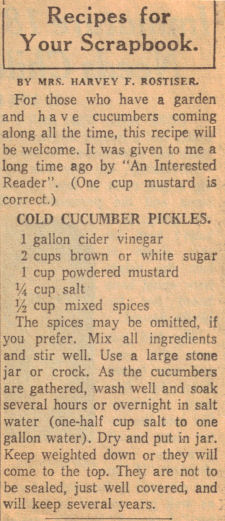 Recipes for Your Scrapbook
By Mrs. Harvey F. Rostiser.
For those who have a garden and have cucumbers coming along all the time, this recipe will be welcome. It was given to me a long time ago by "An Interested Reader". (One cup mustard is correct.)
COLD CUCUMBER PICKLES.
1 gallon cider vinegar
2 cups brown or white sugar
1 cup powdered mustard
1/4 cup salt
1/2 cup mixed spices
The spices may be omitted, if you prefer. Mix all ingredients and stir well. Use a large stone jar or crock. As the cucumbers are gathered, wash well and soak several hours or overnight in salt water (one-half cup salt to one gallon water). Dry and put in jar. Keep weighted down or they will come to the top. They are not to be sealed, just well covered, and will keep several years.
More Recipes For You To Enjoy: