This recipe was written on a lined index card and found in a large collection, date unknown. Recipe is typed below along with a scanned copy.
Coffee Pecan Chews
350° for 30 to 35 min
Sift together:
3/4 c. sifted flour
1 Tbsp. instant coffee
1/2 tsp salt
In small mixer bowl:
2 eggs beat till foamy & gradually add 1 c. granulated sugar. Beat till thick, then 1/2 c. soft or melted butter, 1 tsp vanilla and add dry ingredients and stir in 1/2 c. chopped pecans.
8″ sq. greased pan or spray with Pam
Frost with 1 c. conf. sugar
1/2 tsp. vanilla & 2 tsp. milk or water and serve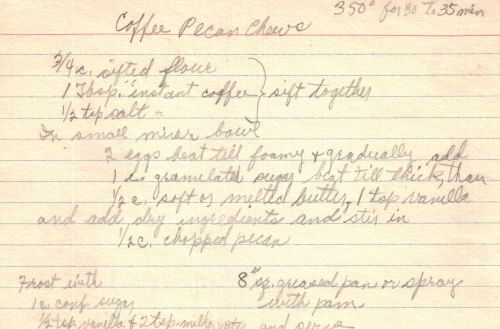 More Recipes For You To Enjoy: