This is a promo recipe for Baker's Southern Style Coconut and clipped from packaging of some kind. Date unknown. Recipe is typed below along with a scanned copy.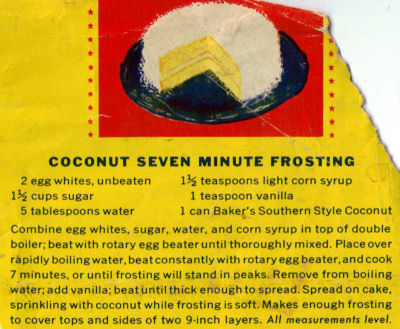 COCONUT SEVEN MINUTE FROSTING
2 egg whites, unbeaten
1 1/2 cups sugar
5 tablespoons water
1 1/2 teaspoons light corn syrup
1 teaspoon vanilla
1 can Baker's Southern Style Coconut
Combine egg whites, sugar, water, and corn syrup in top of double boiler; beat with rotary egg beater until thoroughly mixed. Place over rapidly boiling water, beat constantly with rotary egg beater, and cook 7 minutes, or until frosting will stand in peaks. Remove from boiling water; add vanilla; beat until thick enough to spread. Spread on cake, sprinkling with coconut while frosting is soft. Makes enough frosting to cover tops and sides of two 9-inch layers. All measurements level.
More Recipes For You To Enjoy: