This recipe was written on a lined index card and found in a large collection, date unknown. I've typed it below along with a scanned copy (spelling corrected).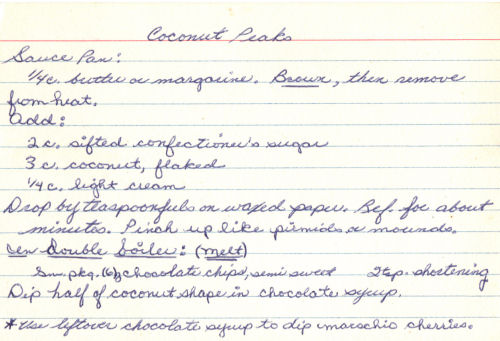 Coconut Peaks
Sauce Pan:
1/4 c. butter or margarine. Brown, then remove from heat.
Add:
2 c. sifted confectioners sugar
3 c. coconut, flaked
1/4 c. light cream
Drop by teaspoonfuls on waxed paper. Ref. for about minutes. Pinch up like pyramids or mounds. (RecipeCurio note: there's no amount of minutes listed)
In Double boiler: (Melt)
Sm. pkg. (6 oz) chocolate chips, semi-sweet
2 tsp. shortening
Dip half of coconut shape in chocolate syrup.
*Use leftover chocolate syrup to dip maraschino cherries.
More Recipes For You To Enjoy: