This recipe was clipped from a magazine and found in a large collection, date unknown. I've typed it below along with a scanned copy.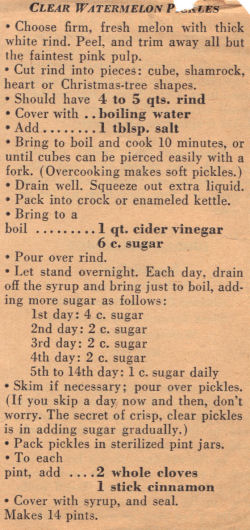 CLEAR WATERMELON PICKLES
Choose firm, fresh melon with thick white rind. Peel, and trim away all but the faintest pink pulp.
Cut rind into pieces: cube, shamrock, heart of Christmas-tree shapes.
Should have 4 to 5 qts. rind
Cover with …boiling water
Add…1 tblsp. salt
Bring to boil and cook 10 minutes, or until cubes can be pierced easily with a fork. (Overcooking makes soft pickles.)
Drain well. Squeeze out extra liquid.
Pack into crock or enameled kettle.
Bring to a boil…1 qt. cider vinegar; 6 c. sugar
Pour over rind.
Let stand overnight. Each day, drain off the syrup and bring just to boil, adding more sugar as follows:
1st day: 4 c. sugar
2nd day: 2 c. sugar
3rd day: 2 c. sugar
4th day: 2 c. sugar
5th to 14th day: 1 c. sugar daily
Skim if necessary; pour over pickles. (If you skip a day now and then, don't worry. The secret of crisp, clear pickles is in adding sugar gradually.)
Pack pickles in sterilized pint jars.
To each pint, add…2 whole cloves; 1 stick cinnamon
Cover with syrup, and seal.
Makes 14 pints.
Please read the Safe Canning & Food Preservation section if planning on canning this recipe.
More Recipes For You To Enjoy: