This promo recipe was clipped from a newspaper and found in a large collection, date unknown. I've typed it below along with a scanned copy.
Classic Lasagna
1 16-ounce box Ippolito's Ideal Lasagna
1 pound sweet Italian sausage (or substitute 1 lb. ground beef)
1 cup green pepper, chopped
1/2 cup onion, chopped
2 cloves garlic, minced
2 15-ounce cups Miceli's Ricotta Cheese
3 egg yolks
2 tablespoons fresh parsley, minced
1 tablespoon dried sweet basil, crushed
1/2 tablespoon salt
1/4 teaspoon pepper
1 16-ounce package Miceli's Mozzarella Cheese
1 48-ounce jar tomato spaghetti sauce or 5 cups homemade sauce
Prepare Ippolito's Ideal Lasagna Noodles per package instructions.
Crumble and saute sausage or ground beef, with green pepper, onion, and garlic in skillet over medium heat until done, about 10 minutes.
Blend together the Miceli's Ricotta Cheese, egg yolks, parsley, basil, salt and pepper.
Spread one cup sauce over bottom of large baking pan, at least 9″x13″x2 1/2″. Arrange 3-4 lasagna noodles over sauce. Spread with one-third of the ricotta cheese mixture, then one-third of the sausage mixture. Shred or slice the Miceli's Mozzarella Cheese and then sprinkle or place one fourth of the cheese in the pan. Pour one cup of sauce over this and then add next layer of lasagna noodles and gently press down. Repeat layers, ending with lasagna noodles on top. Spread on remaining sauce and sprinkle with remaining mozzarella cheese.
Cover pan with foil and bake at 350° for 55 minutes. Remove foil last 10 minutes of baking. Let stand about 10 minutes before cutting.
Makes 16-20 servings.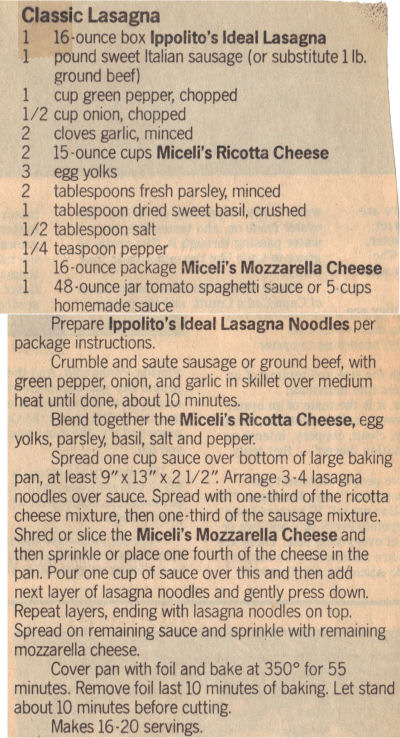 More Recipes For You To Enjoy: