This is a promo recipe slip from Kroger that was found in a large collection, date unknown. I've typed it below along with a scanned copy.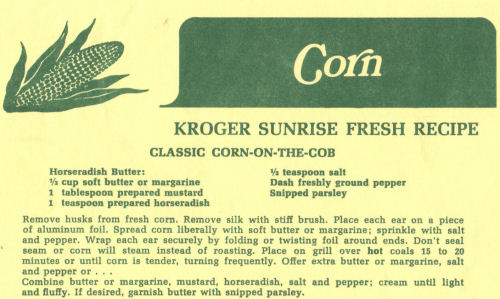 Corn
KROGER SUNRISE FRESH RECIPE
CLASSIC CORN-ON-THE-COB
Horseradish Butter:
1/2 cup soft butter or margarine
1 tablespoon prepared mustard
1 teaspoon prepared horseradish
1/2 teaspoon salt
Dash freshly ground pepper
Snipped parsley
Remove husks from fresh corn. Remove silk with stiff brush. Place each ear on a piece of aluminum foil. Spread corn liberally with soft butter or margarine; sprinkle with salt and pepper. Wrap each ear securely by folding or twisting foil around ends. Don't seal seam or corn will steam instead of roasting. Place on grill over hot coals 15 to 20 minutes or until corn is tender, turning frequently. Offer extra butter or margarine, salt and pepper or …
Combine butter or margarine, mustard, horseradish, salt and pepper; cream until light and fluffy. If desired, garnish butter with snipped parsley.
More Recipes For You To Enjoy: