This recipe comes from the back of a Fleischmann's yeast packet with the expiry date marked of 1980 so this recipe is a couple decades old. Recipe is typed below along with a scanned copy.
CINNAMON COFFEE BRAID
Makes 2 braids
4 1/2 cups unsifted flour (about)
3/4 cup sugar
1 1/2 teaspoons salt
2 packages Fleischmann's Active Dry Yeast
3/4 cup milk
1/2 cup water
1 cup margarine
3 egg yolks (at room temperature)
2 teaspoons ground cinnamon
Melted margarine
Combine 1 1/2 cups flour, 1/4 cup sugar, salt and yeast.
Heat milk, water and 1 cup margarine to 120°-130°F. Add to dry ingredients and beat for 2 minutes at medium speed. Add egg yolks and 1/2 cup flour. Beat on high speed for 2 minutes. Stir in more flour to make a stiff batter. Cover bowl tightly with aluminum foil. Refrigerate 4 hours.
Combine remaining 1/2 cup sugar and cinnamon until well blended.
Turn dough out onto floured board; roll into 6 ropes 18 inches long. Braid 3 ropes together; seal ends firmly. Place on greased baking sheet. Repeat with remaining 3 ropes. Brush each braid with melted margarine and sprinkle cinnamon-sugar mixture. Cover; let rise until doubled, about 1 hour.
Bake at 375°F. 25 to 30 minutes.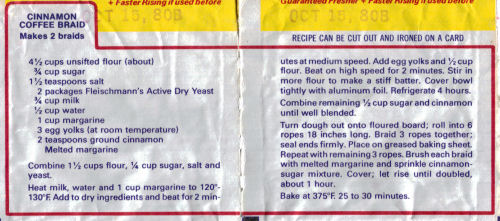 More Recipes For You To Enjoy: