This recipe was clipped from a newspaper and found in a large collection, date unknown. I've typed it below along with a scanned copy.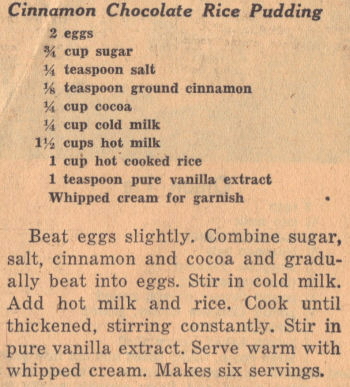 Cinnamon Chocolate Rice Pudding
2 eggs
3/4 cup sugar
1/4 teaspoon salt
1/8 teaspoon ground cinnamon
1/4 cup cocoa
1/4 cup cold milk
1 1/2 cups hot milk
1 cup hot cooked rice
1 teaspoon pure vanilla extract
Whipped cream for garnish
Beat eggs slightly. Combine sugar, salt, cinnamon and cocoa and gradually beat into eggs. Stir in cold milk. Add hot milk and rice. Cook until thickened, stirring constantly. Stir in pure vanilla extract. Serve warm with whipped cream. Makes six servings.
More Recipes For You To Enjoy: